Win groceries for a year from Ronzoni!! Once you enter you can also print up some coupons!!!
Cooking stuff!! I love to cook and I love Le Creuset! So go over to Blessings Abound and enter for a Le Creuset 12 inch deep Fry Pan with Glass lid. You can't get any better cookware than Le Creuset, trust me.
Go over to Coupon Kim's and enter for Yoplait Delights prize package.
Love Coffee? The go over to Single Serve Coffee Deals and enter for a case of Keurig Cups! I am so in on this because I have a Keurig and want to stock up for winter!!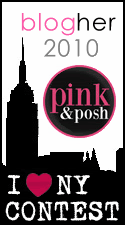 Look at this loot. Now you have to be going to Blogher10 to enter, keep that in mind.
One grand prize winner will receive:
■Pink "I Love NY" coffee mug
■Pink "I Love NY" key chain
■Pink "NY Princess" shot glass
■Pink "I Love NY" magnet
■Black & White "I Love NY" tote bag
■Black & White Statue of Liberty postcard
■Hot Pink "Hater Blocker" Sunglasses
■White "New York City" baby onesie (size 6-12 months)
■Black women's "New York City" T-shirt (size medium)
■$25 Gift Card to Dylan's Candy Bar (Sponsored by By the Book, Karmel Publishing)
■One 1-day unlimited Metrocard (NYC public transportation pass)
■Born to Shop New York by Suzy Gershman
■$50 Gift Card to Jeckyll & Hyde Restaurant (Sponsored by Princess Time Toys)
■$25 Starbucks Gift Card
■Zagat NYC Restaurant Guide 2010
■Good Night New York City children's board book
■One current issue of Time Out NY Magazine
■Assortment of NYC-theme snacks and beverages
■Strech limo ride courtesy of NY Limo Guys to pick you up from the airport and bring you to the Hilton in NYC
■One BlogHer '10 Full Conference Pass